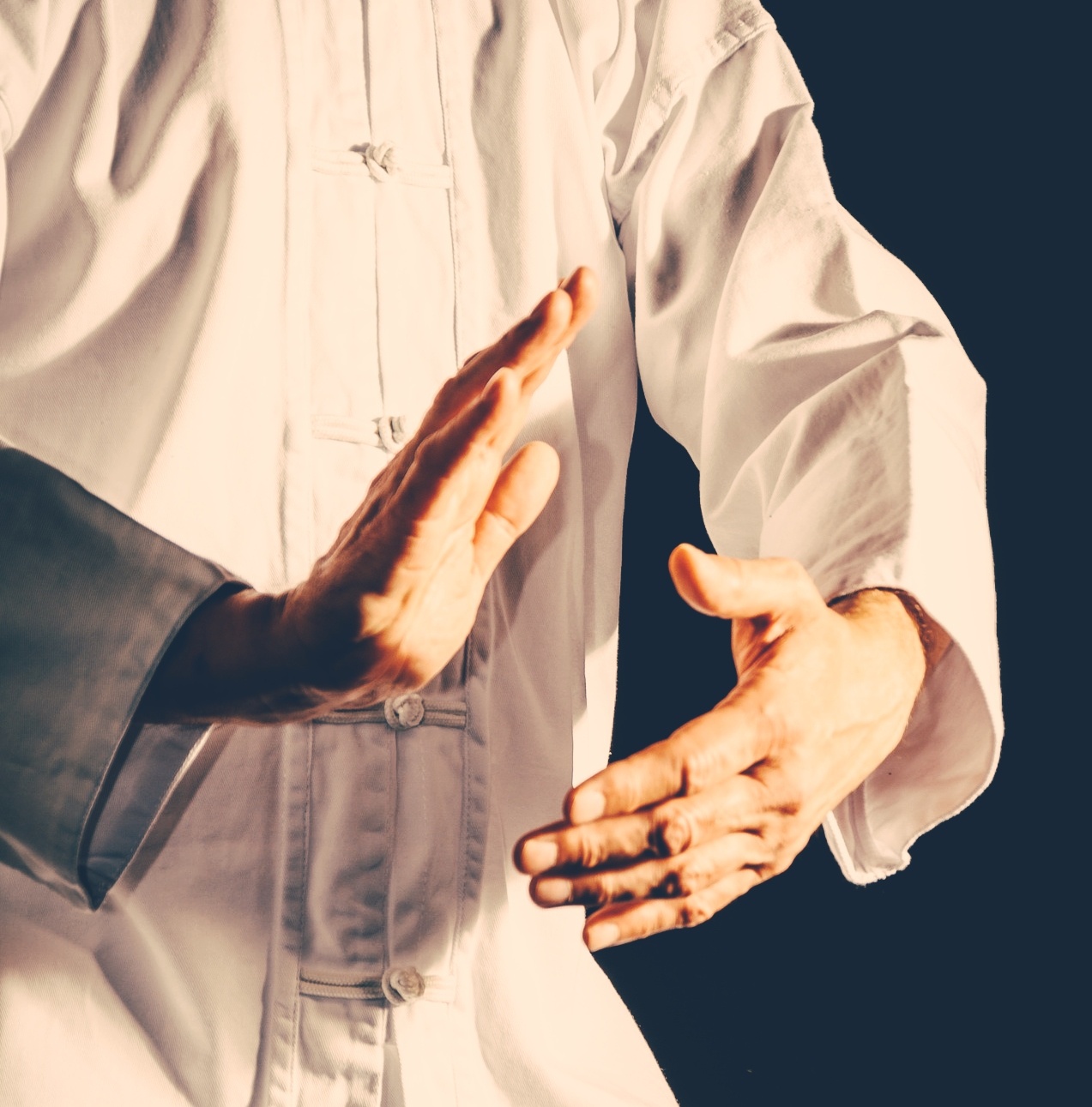 Flow with Qigong
We will do a session about the art of Qigong. We will discuss the benefits, practice some basic posture and the breathing techniques. We will explain how you can integrate these movements in your own class. During some of the classes, we will do some Qigong movements and energy work like energy tapping.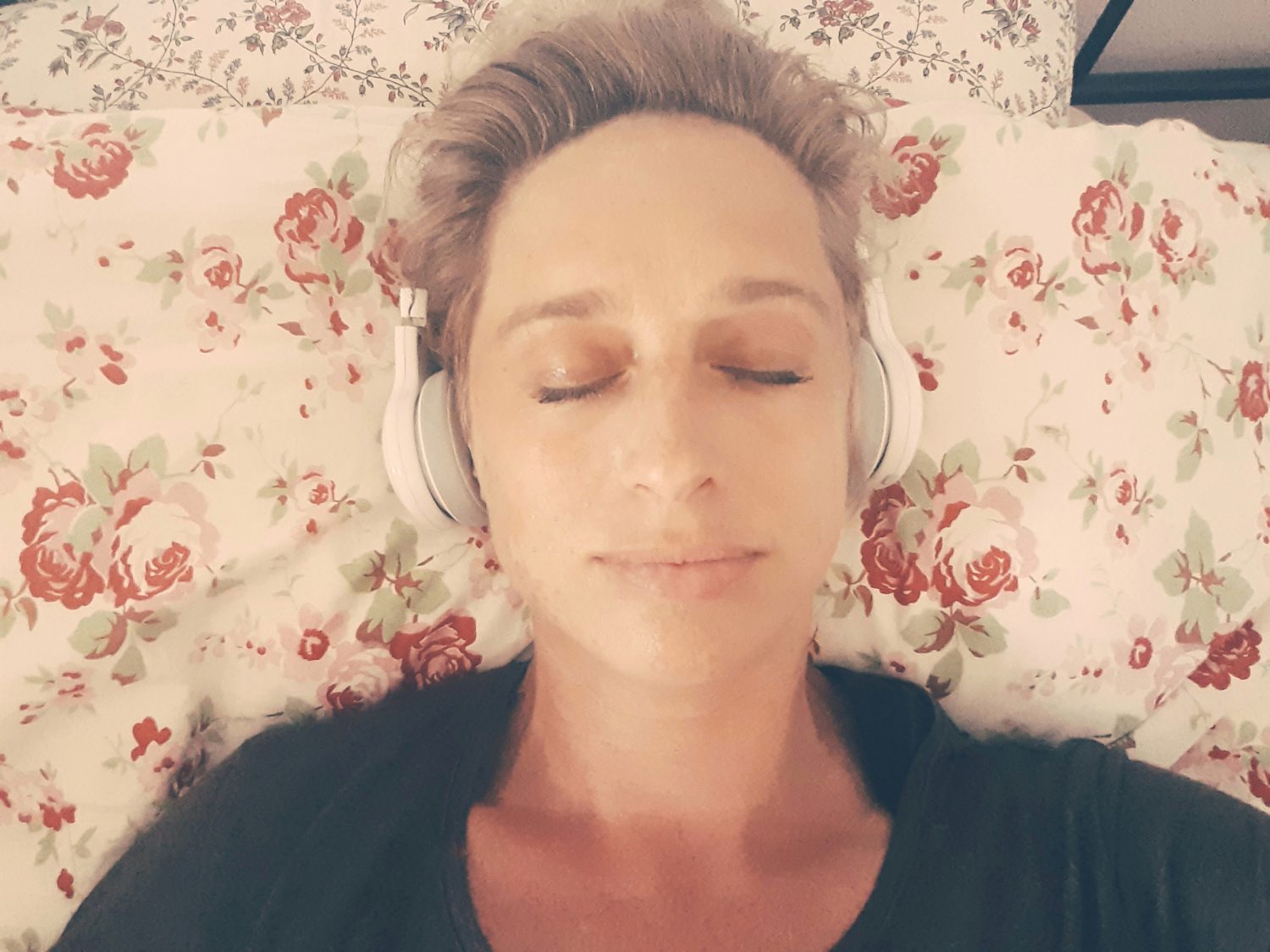 Yoga Nidra
Yoga Nidra— yogic sleep—is a meditation and conscious relaxation practice that is intended to induce total physical, mental, and emotional relaxation. This state is reached by separating the external awareness of the physical body through various stages. It results in a state where you are asleep with a trace of awareness. It's a beautiful practice, gaining popularity across the world and ongoing research continues to prove its effectiveness.
The benefits of Yoga Nidra are numerous. It helps people to reduce stress, improve creativity, create focus, gives a deep rest in a few minutes, similar to rest after an overnight sleep.
"Thank you for this week. I made wonderful new colleagues and enjoyed myself more than expected. I was most surprised by how "down-to-earth" and experienced teachers were. This was a pleasant surprise and makes me feel proud to potentially teach yoga. This was an unforgettable week I will take with me and share for my life. I hope to see you again in the future."
— Starr Cortner, USA
Sat nam
"Thank you for holding us this nurturing and safe space, filling us with love, acceptance, knowledge and experience.
Your approach to life and yoga (teaching) is so open and amazing. You gave us so much inspiration and motivation. That will stay with us for a long time.
Sat nam"
— Dora suba, Ireland, October 2019
About the teachers
Ilse-Marie is hosting the training together with Jane Bakx. Both are senior yoga teachers (E-RYT500 registered by Yoga Alliance). They both have been practicing and teaching Yin Yoga for many years. Jane trained directly with Bernie Clark, one of the pioneers who brought Yin Yoga to the West. Jane is an expert in anatomy and alignment and knows how to animate people to discover the human body.
Ilse-Marie did a Yin Yoga course of Bernie Clark as well and did a lot of courses/workshops /classes on (Yin)Yoga. Ilse-Marie is very passionate about Eastern philosophy and the energetic body. She studied yoga philosophy, mIndfulness, Taoist yoga, and Traditional Chinese Medicine with Qigong (TCM) and Energy Medicine.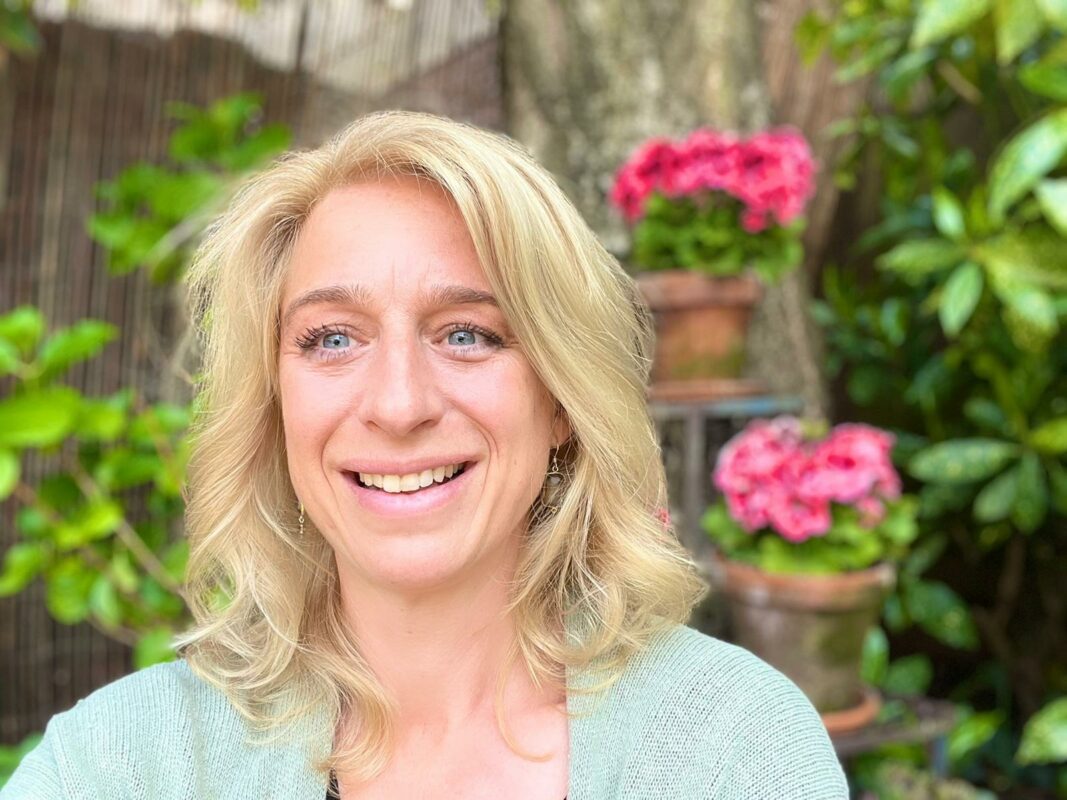 Ilse-Marie Sobering – International Yoga and Meditation Teacher E-RYT500 – Mindfulness Coach – Energy Worker
Together with Jeroen Ruijters the Founders of Viva La Vida and an experienced E-RYT500 Yoga Teacher.
Ilse-Marie did several teacher training courses. She did several advanced courses in Ashrams in India. She is skilled in various Yoga styles and over the years has created her own style Prana Yogaby mixing various styles of Yoga. She is teaching Yin & Restorative Yoga, Vinyasa, Flow, Kundalini en Hatha Yoga. She is an experienced meditation and pranayama teacher. Furthermore she is skilled in TCM, Ayurveda , Qigong and energy work.  She gives classes and courses in three languages ​​to beginners, advanced students, seniors and children. She is organizing international retreats and courses, gives (master) classes and workshops.
Ilse has a great passion for Yoga, meditation, mindfulness and healthy nutrition. Yoga & meditation had a big impact on her own life. Ilse-Marie: "I live a lot more in the present moment, I can handle stress better and I enjoy the small things in life a lot more. Yoga is for me this still point is this fast-changing world.
I have also realized what is important to me and how I can make a positive contribution in my own way. Teaching gives me a lot of energy and I think it's great to see what positive effect it has on people.
It is beautiful to share your knowledge with others and to do what you really love.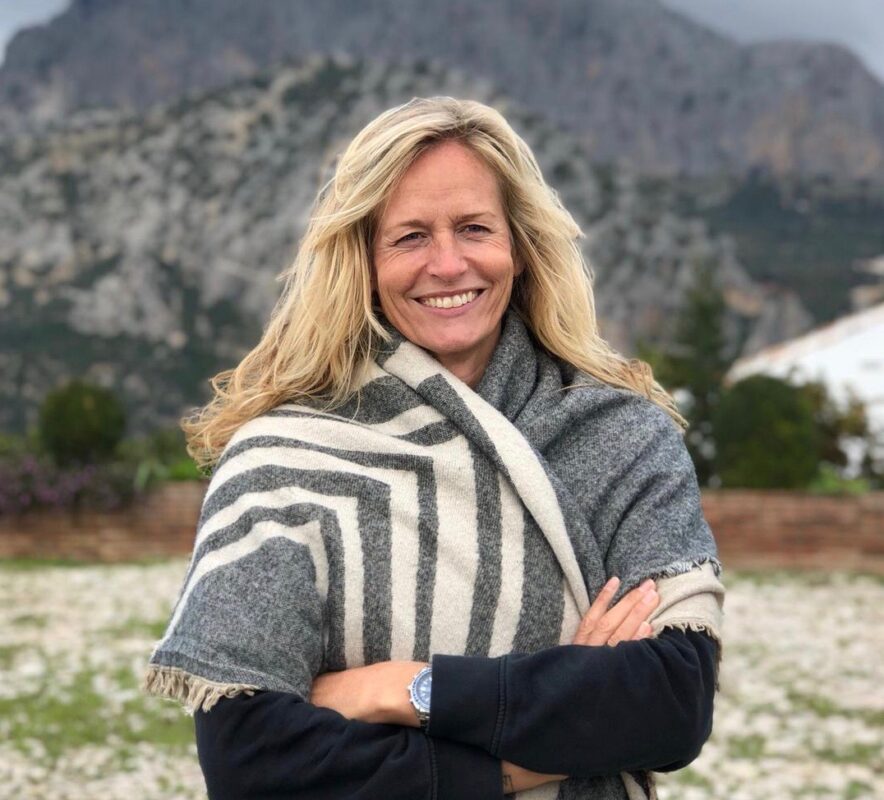 Jane Bakx, Yoga and Meditation Teacher E-RYT500
Jane is an E-RYT500 Yoga teacher (Yoga Alliance certified) from the Netherlands. She lived in Amsterdam for most of her life and worked as a producer in advertising. She practiced Yoga for over 15 years and has been teaching for a few years. After her two Yoga teacher training courses (both in India), she decided to leave her job in advertising and follow her heart and passion for Yoga full time. Since then, she has been teaching and traveling around the world and also organizes retreats. She mainly practices Vinyasa and Yin Yoga herself and sometimes also Ashtanga.
To Jane Yoga is all about making a connection with yourself; with your body, mind and heart. Through Yoga you learn to listen more to your body. The focus in Jane's classes is mainly on making that connection to yourself and at the same time getting more flexible and strong.
Practical information about the Teacher Training
Yoga Alliance® 50-hour yin Yoga Teacher Training Course online
Together with Jane Bakx from Jane Bakx Yoga we are hosting this wonderful 50h Yin Yoga TTC.
The training is in English and will be held mostly live online via Zoom, but also includes practices in your own time with pre-recorded videos.
It will consist of seven 5-hour days
Flexibility regarding watching the classes
We want to be flexible with busy students who can't make all of the set dates of the live sessions and students in different time zones. If you're unable to take part in a live session, you may watch it later. The live online sessions will be recorded and you'll get access to them. We do ask of the students to finish the full training within 3 weeks.
Dates
NEW DATES COMING SOON
This is according to Central European Time (Amsterdam, Netherlands CEST (UTC +2) ) see the online time zone calculator to see the time in your location
Price:
Regular price: 695 Euro/ 850 USD
Price is included an extensive digital manual, to use during the training, and also as a guide for later reference after the TTC.
We will send you the manual in digital form.
Students from other time zones can join
The live online sessions are also suitable for students in other timezones like Canada, USA, Africa and parts of Asia.
If you are confused about what time it will be in your location, try the online time zone calculator.
Remember you can also do this training by watching the recorded sessions in your own time.
rEgister for the training

A LOT OF PERSONAL CONTACT
BOTH BEFORE, DURING AND AFTER THE ONLINE TRAINING
BEFORE – PRECARE
You can talk with us over the phone, via email, whatsapp concerning any questions about the course. And before we start with the course we will have an online live video meeting with a welcome speech, introduction round and Q&A.
DURING THE COURSE
A big part of the classes will be via live online video meetings. You can ask direct questions, chat and interact.  Furthermore, you will have one teacher as a personal mentor. You can always have a personal chat with your mentor via the phone or WhatsApp.
AFTERCARE
At the end of the training we will have an online live meeting  for feedback and Q&A. You can always ask the teacher's additional questions after the training.
We have very supportive groups. From experience we can say that there is a lot of interaction and sharing between the students after the course.
This course is including
In-depth Yoga Teacher Training
50-hour Yoga Alliance certification
Comprehensive digital manual/workbook. Our in-depth training manual is an exceptional learning and reference tool for both during and after your training.
A special Whatsapp group where we share valuable information
A good foundation of  Yin Yoga
Yin Yoga practices.
Meditation, theory, talks, and exercises.
Additional activities
Qigong session & energy work
Yoga Nidra Session
Price for the training
Price: 695 EUR now 595
Price is included an extensive digital manual/workbook, to use during the training, but also as a guide for later reference after the TTC.
REGISTER FOR THE TRAINING
Book this training
Please send me an email (Ilse info@vivalavifdalifestyle.com) or book directly via this link
Zoom
Live online sessions will be hosted via Zoom. It's an easy setup, so no worries if you are not super technical. And we are always happy to help you if needed.
Props
Don't worry if you don't have props at home. We can be creative. You can use a rolled-up or folded towel or small blanket, pillow or cushion, books and a belt (a soft belt from a bathrobe works perfectly).
Register for the training
Why choose this 50h Online Yin Yoga TTC?
There are a lot of online Yoga teacher training courses on the market. You should choose one that feels good.
We have done several teacher courses in the past and we have learned what we find important in a course.
We are down to earth yogis that will offer you a professional comprehensive course that we have created with a lot of passion. We have learned so much that we would like to share with you.
You will find a lot of online teacher training courses that accept huge groups of students and that gives little personal attention.
We have chosen to work with smaller groups.
Although it is online this will still keep it personal. Especially if you are attending the live online sessions this creates a nice and intimate setting, were people can feel save.
Working with small groups gives us the opportunity to give you enough attention and personal feedback.
All students will have a personal coach (one of the teachers) that will help you on your personal journey.
This is what our students say about our courses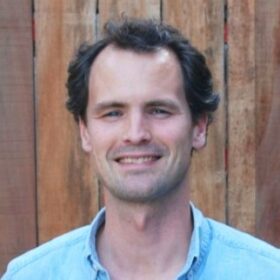 I can really recommend this training as well for people in the medical field
I really enjoyed the teacher Training. Right after the first lesson I knew this course was for me. I love the combination of spiritual energy and down to earth anatomy. Jane and Ilse are great teachers.
"This has been one of the best weeks of my life!!
Ilse and Jane have a wonderful energy! They both radiate an incredible amount of love and passion, which fills you up with energy and inspiration.
During the training I have grown as a person. I learned about myself and gained the confidence and knowledge that I needed to start teaching my own classes.
I am immensely grateful for this experience, for the amount of useful information I learned, for the beautiful people I met, and, especially, for the teachers, Ilse and Jane, who made all this possible. I love you so much! Thank you!!"
I feel deeply inspired
"Thank you so much for this very special week!
I thought it was very special, that you really try to share everything you know and don't hold back in order to make everyone the best teacher they can be.
I feel deeply inspired. One of the many things I learned is that breathing in is also called INSPIRATION!
Much love!"
— Annette rieger, Belgium, October 2019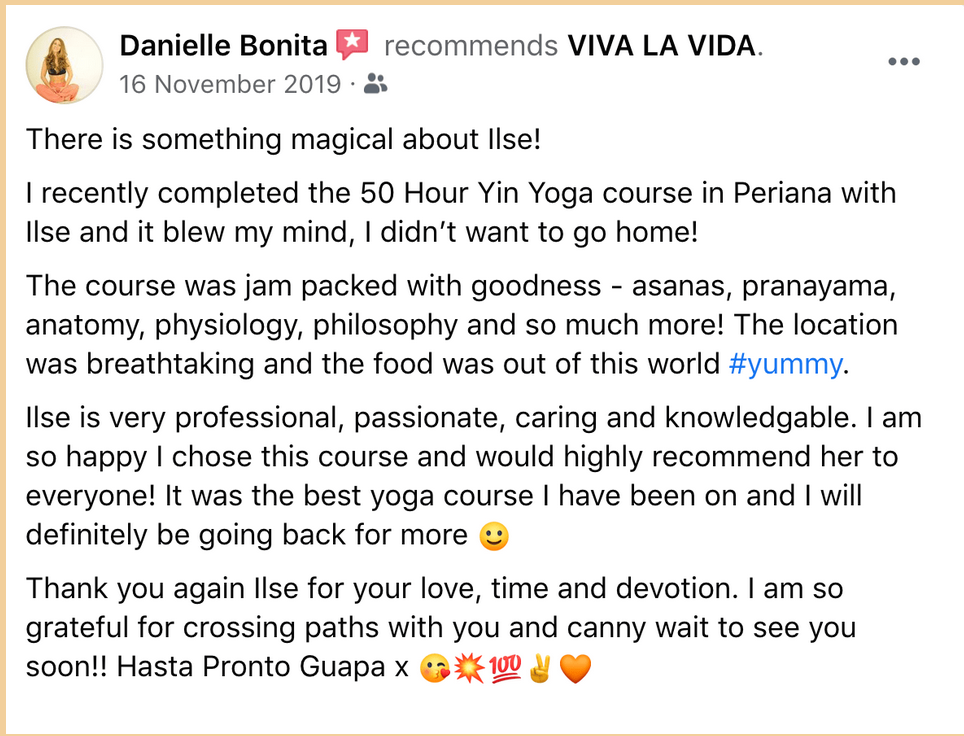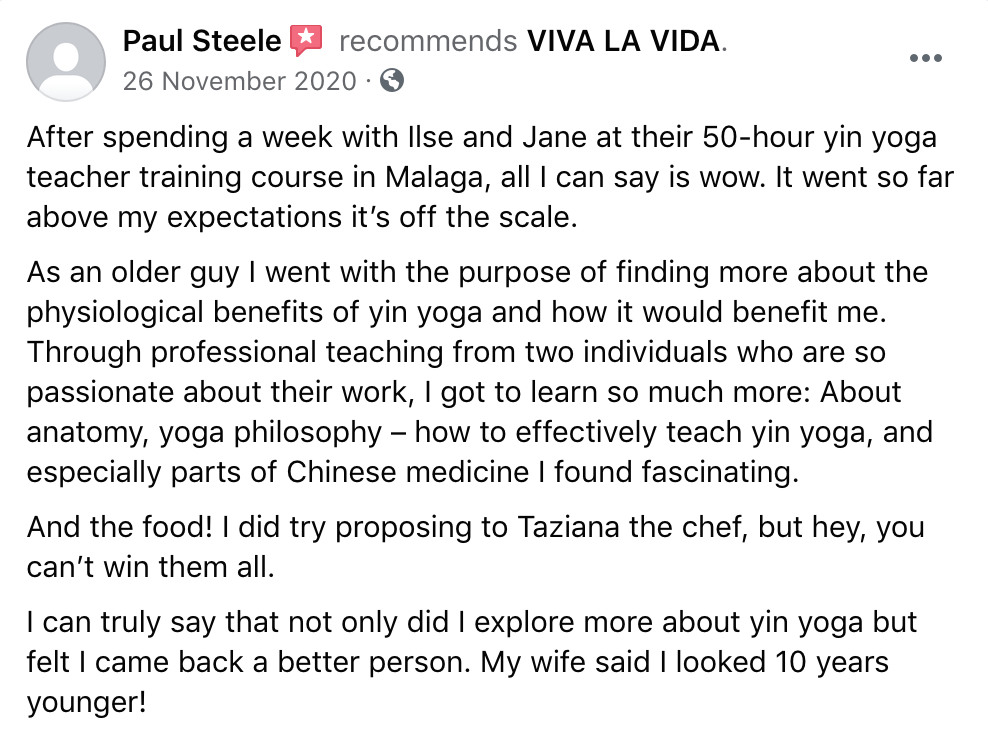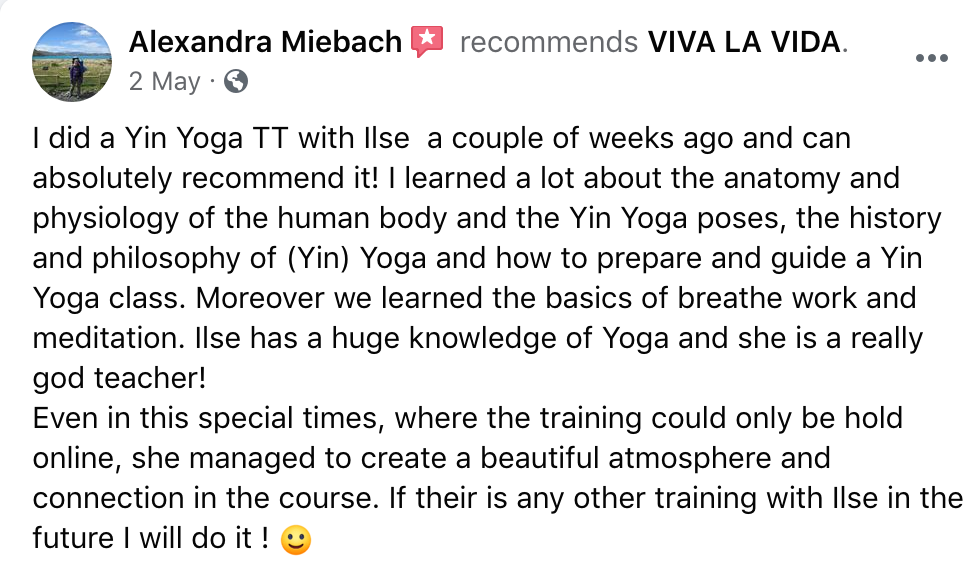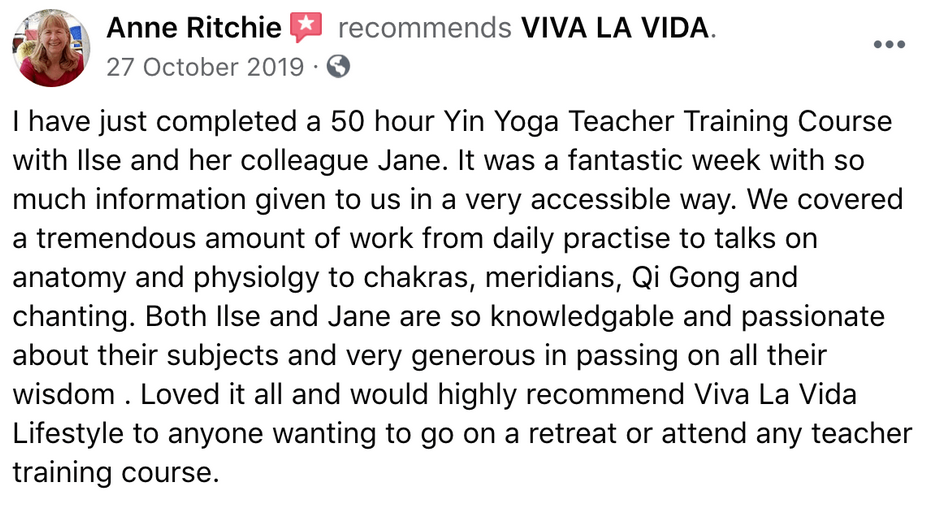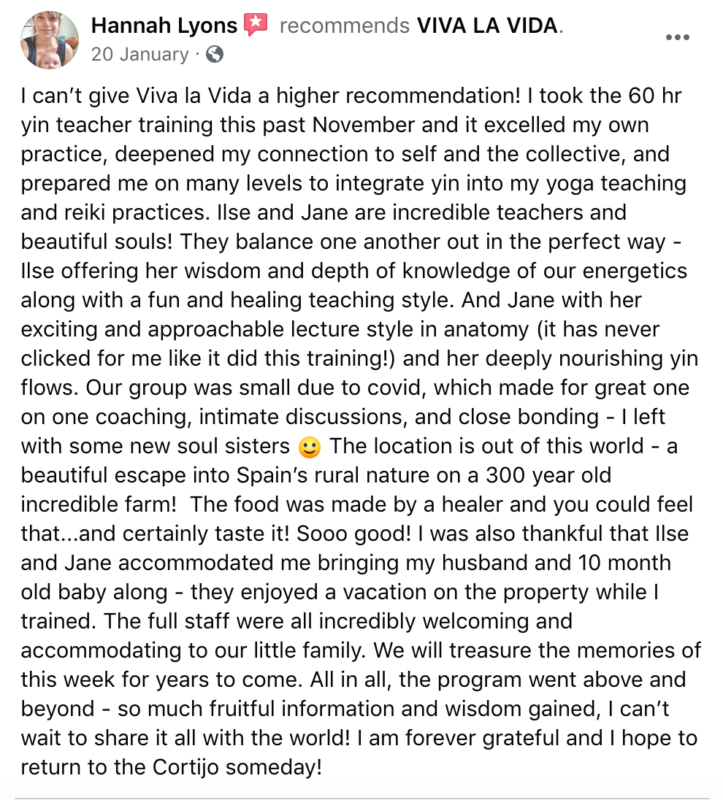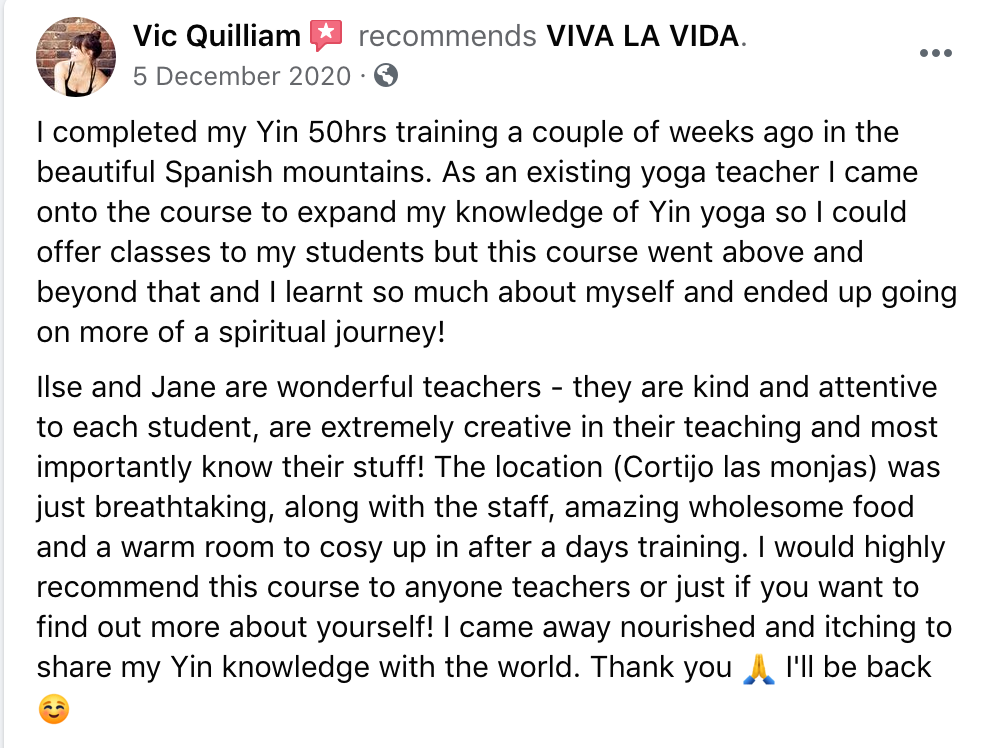 InnerPower Yoga Teacher Training:
✓ Acknowledged CEP by Yoga Alliance®
✓ 2 experienced Yoga Teachers & specialized guest teachers
✓ Small groups & personal attention
✓ Tools to Change Your Life
✓ 2 Extra Workshops & Activities
✓ Comprehensive Digital Manual /Workbook
✓ A special FB/Whatsapp group where we share valuable information
REGISTER FOR THE TRAINING
Frequently asked questions
Are you interested in joining us?
Would you like to join our Yin Yoga Teacher Training course?
But you would like to have some more information?
You can always contact the lead teacher Ilse-Marie Sobering via WhatsApp (see button on this page right) or via Telephone: +34 622 390 649 (Ilse-Marie).
You can also send us an email via info@vivalavidalifestyle.com or leave us a message via the form below
Warm regards,
Jane & Ilse